Testimonials From Our Colleagues
I can collaborate with the most amazing team of software developers, become friends with people from various cultural backgrounds, grow professionally by taking advantage of learning opportunities provided by my employer, and feel that I contribute significantly to the company's mission of reducing carbon emissions globally. And I am not going to lie: it feels good to be a superhero ;)

Anna, Software Developer, Finland

I joined One Click LCA because I want to work in sustainability and to feel I'm making a difference in the world. The team at One Click LCA genuinely care about the state of the planet and, by extension, about one another. This is what I like most about working here.

Dave - Business Development Manager, UK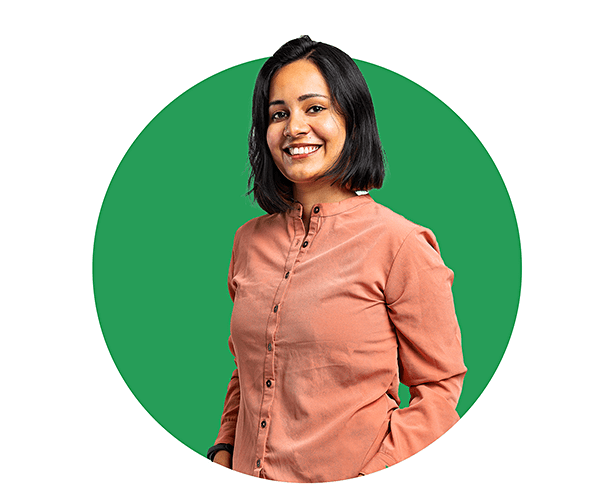 Aswathy , QA Team Lead
"OCLA is where my passion for testing and sustainability go hand in hand. Working at One Click LCA so far for 3 years has been a wonderful experience. Starting as a quality assurance tester, I now lead a team of 5 and expanding, working across India and Qatar. The flexible timings and the regular check-up with my managers ensure that I remain intellectually stimulated, yet still have work life balance. We have a young and vibrant work environment with colleagues from all over the world, united by our passion for sustainability. It has been refreshing to work in a company culture that not only preaches its values but also follows up with them, to make sure that our products help make the world decarbonized."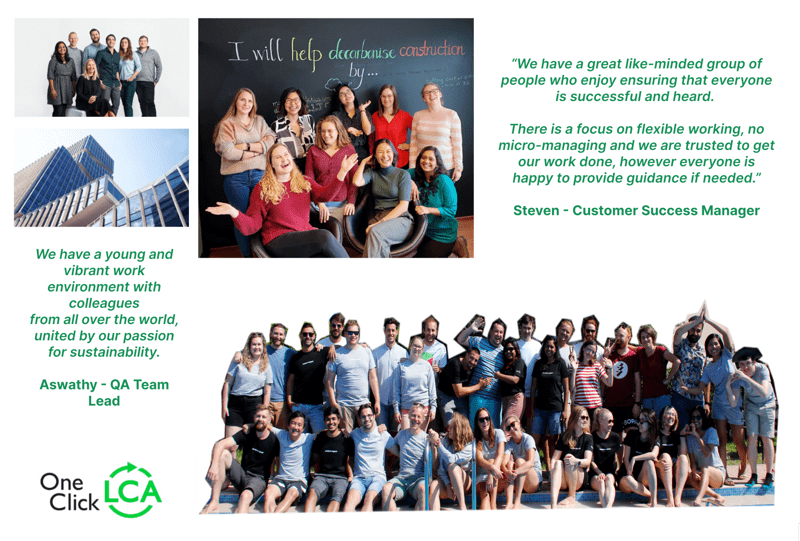 Steven, Customer Success Manager, Finland
"How do you measure if you are doing something impactful at work? People have different reasons for wanting to work however few can say they are contributing in a meaningful way to saving our planet. I was posed with the same dilemma, wanting to have a sense of accomplishment at the end of the day.
This I have found working at One Click LCA where every day I am able to help our customers (and colleagues) reduce the impact they are having on the construction industry, to ensure a bright future for the next generations.
We have a great like-minded group of people who enjoy ensuring that everyone is successful and heard. There is a focus on flexible working, no micro-managing and we are trusted to get our work done, however, everyone is happy to provide guidance if needed. Furthermore, we are located in the best city in the world full of the happiest people on the planet, so working for One Click LCA is a great choice! Not just your next job, it's your next career path."

Anna, Software Developer, Finland
"I joined One Click LCA as a marketing trainee right after my graduation back in 2017. Five years and a career change later, I am happy to see how much the company has grown and evolved.
Why I recommend working here? Because in my opinion, the cornerstone of One Click LCA is the people behind the success story and a very humane approach to handling the HR aspects of the business by the top management.
That is why I feel valued here as an employee and as a person. I can collaborate with the most amazing team of software developers, become friends with people from various cultural backgrounds, grow professionally by taking advantage of learning opportunities provided by my employer, and feel that I contribute significantly to the company's mission of reducing carbon emissions globally.
And I am not going to lie: it feels good to be a superhero ;)"
Dave - Business Development Manager, UK
"I joined One Click LCA because I want to work in sustainability and to feel I'm making a difference in the world. The team at One Click LCA genuinely cares about the state of the planet and, by extension, about one another. This is what I like most about working here. In my opinion, the people make the company, and the people at One Click LCA are brilliant. We have a team built of different cultures and backgrounds from all over the world and each and every person I meet is intelligent, kind and caring. There is a lot of thought and effort put into the culture of the company.
My day-to-day role is client-facing and helping to spread the word about our carbon reporting/reduction software. The business is growing quickly so the job is fast-paced. I get to speak with loads of different types of people from the industry which I really enjoy. I'm empowered and trusted to manage my workload as I see fit which helps me to deal with the pressures of both the job and life as a whole.
If you are self-motivated and want to work with like-minded people in a growing industry then One Click LCA is perfect for you.